Ray was involved in music early on, touring with a professional boy's choir, the Columbus Boychoir, while performing in many famous venues with orchestras including the New York Philharmonic at Lincoln Center and a seven-week stint at Radio City Music Hall for the Christmas Show. (Composer Van Dyke Parks is another alumnus of Columbus Boy Choir). Ray's high school band, The Deuces Wild, was famous for dressing alike. In 1967 he decided for reasons still not clear to attend Rice University (pre-law) in Houston, Texas. Ray had blonde hair down to his waist,

Nixon was President, the war in Vietnam raged on and most of his class had never been outside the state of Texas. After much unpleasant interaction with the student body Ray left Rice to tour with Roy Head, a Texas R & B singer with several national hits (TREAT HER RIGHT and THE GREEN GRASS OF HOME), and worked his way back to New York City where he was hired as an A & R executive by Columbia Records in 1970. Ray was the first A & R man to hear Aerosmith audition, and convinced Clive Davis to sign them. He was also the second person to hear the Springsteen demo tapes, after John Hammond Sr. brought them in. He was unsuccessful in convincing Clive to sign Bonnie Raitt or Jim Croce. Ray left CBS in 1972 to produce Aerosmith's second album and to tour as a keyboard player with Lou Reed, playing on two live albums. He also played on the Don Maclean album AMERICAN PIE, amid many other sessions. In 1973 Ray moved to LA to work for United Artists records.
In 1976 Ray became the music director and keyboard player for The Groundlings, a local comedy group. For the next ten years he wrote all of their musical material and performed with such actors as Paul Reubens (Pee-Wee Herman) , Phil Hartman, Jon Lovitz, Mindy Sterling (Austin Powers), Lorraine Newman, Edie McClurg, Cassandra Peterson (Elvira), and many others. He was also music director of An Evening At The Improv during its first season. During this time Ray started scoring cable and syndicated shows, working on network shows from 1983 onwards, generating Emmy nominations and citations, both ASCAP and BMI awards, Dramalogue awards and other acknowledgements of a steady stream of quality work. Ray has written themes and underscore for more than 700 primetime episodes including FAMILY AFFAIR, LOST AT HOME, BOY MEETS WORLD, BIG BROTHER 2 & 3, PROMISED LAND, DINOSAURS, THE FACTS OF LIFE, 2-2-7, MY TWO DADS, WHERE I LIVE, HILLER & DILLER, TRIAL & ERROR, SILVER SPOONS, TOUCHED BY AN ANGEL, THE SIMPSONS, etc.
Ray also began scoring films, starting with THE DEVONSVILLE TERROR in 1982 and continuing on through THE SLEEPING CAR, WISH UPON A STAR, THE PAPER BRIGADE, AMITYVILLE DOLLHOUSE, OFF YOUR ROCKER, HEARTWOOD, and the latest, THE KING'S GUARD. Many of these are orchestral scores, some available on CD. Ray also contributed additional music to TOMB RAIDER II, THE GENERAL'S DAUGHTER, DUMB & DUMBER, CASPER, DOUBLE IMPACT, MAXIE, DEEP IMPACT and UNCONDITIONAL LOVE.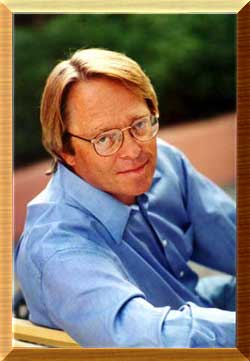 Ray's studio, Superscore Studios, has a 288-input Euphonix console with a ton of synths and samplers, and a live room for recording live instruments and singers (yes, live instruments).
Ray is a past president of the The Society of Composers & Lyricists, the founder and President of the Composers and Lyricists Legal Aid Society, a member of the board of directors of the Film Music Society, and currently a member of the American Federation of Musicians, the Recording Musicians Association, the Screen Actors Guild, the American Federation of Television and Radio Actors, and the American Association of Music Arrangers and Composers. He has also taught Music Production for Film and Television for the UCLA extension school.
Ray is married and lives in LA with his odd family, who insist that no matter what this website says, he is not cool.